I hope everyone is ready for the
boat shows and flea markets
occuring this time of year.
New regulations
to help protect the striped bass fishery will start in spring 2020.
I had a great day of catching with Billy Mellendick. We started fishing just before the ebb current which max at a swift moving 1.03mph. It was tough, but we did catch some stripers that pulled hard, put up an excellent fight, and were fat. They were all caught on light tackle, then released.
The 1st Double of the Day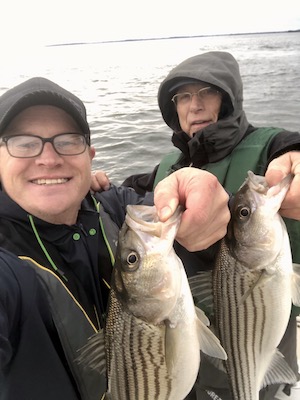 MOST PRODUCTIVE LURE:
Z-Man plastic
rigged on a 1/2 & 3/4 ounce
BKD jigheads
. The stripers were tight to the bottom and were a challenge to catch.Thanks Billy for the fun trip.

We Needed the Fishfinder to Locate the Fish