I met Don Arthur and Andrew his grandson visiting from Texas, at Sandy Point on Monday. We cruised to the Western Rockpile to find it too crowded to fish so we headed south. It didn't take long before we sighted a few flocks of birds blitzing the water. It turned out to be a fun day for all. Click on any picture to enlarge.
Andrew and Don with the 1st Double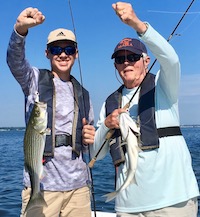 Andrew Landed a Nice Striper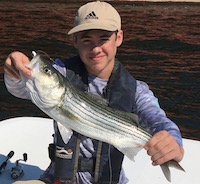 NOT US Coast Guard Approved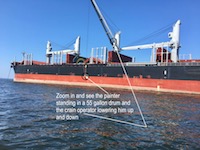 On Tuesday afternoon Don took Andrew to the airport to fly home and picked up his brother Bradley.

Wednesday morning Don and Bradley met me at Sandy Point State Park at 7am. We didn't try to fish the Bridge as we moved south on the Western Shore looking for birds. They finally showed up and the catching started.

Don and grandson Bradley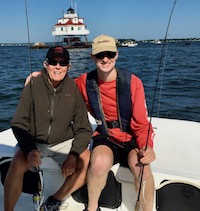 More stripers were caught today than on Monday, but all were released while in the water. Two years ago this pair of anglers caught 47 stripers, many keeper size with the majority on topwater, using
Heddon Saltwater Series Super Spook XT
lures. Good luck Bradley in your freshman year at
Texas Tech University
.
MOST PRODUCTIVE LURE (both trips):
Berkley, Gulp Alive Jerk Shad, 5", in Pearl White
fished on a
BKD Lure - 1/2 ounce, White/Red Eyes Jigheads
. NOTE: These jigheads have 2 keepers that are excellent for keeping Berkley Gulp Alive lures on for many fish.
MOST PRODUCTIVE TECHNIQUE:
Jig-Jig, Crank-Crank
This is a 2-step technique where you jig the bottom then move the lure off the bottom and up through the water columns in a jigging motion. It's highly productive on striped bass that are on the bottom, or when suspended. Accomplish this technique by snapping the wrist rather than moving the rod, using just the arm.
NOTE: The boat will be drifting down current with the motor off only if you are not in a dangerous location (like the Bay Bridge).
1st Step-Jigging the Bottom
From the up current side of the boat, cast the lure out, put the rod at 9 o'clock and let the lure hit the bottom. Swiftly snap the rod to the 10 o'clock position lifting the lure off the bottom swiftly. When the line starts to descend again move the rod tip downward in sync with the line until the lure hits the bottom again. Do this 3 times.
2nd Step-Jigging the Water Columns
The lure is still in the water after completing the 1st Step and on the bottom. Swiftly jig the lure twice (Jig-Jig) then reel handle twice (Crank-Crank). Do this until you get a hook-up or the lure is back to the boat.
I set this Garmin FF/CP up last week (click to enlarge)